I'm much honoured when I'd been contacted by
LÍLLÉbaby
® to try out their baby carrier for my Little Bun still in my tummy.
Since I am not able to try it out for now as I am 7 mths+ preggy with baby#3, I decided to first share with you readers my first impressions on this baby carrier in Part 1.
I will go a little bit more in detail the features and the babywearing experience with
LÍLLÉbaby® in Part 2 (coming soon)
This Part 1 blog post will end with a giveaway for my readers, which I am excited to share with you all (more about this at the end of this post).
FIRST IMPRESSIONS SO WHO AND WHAT IS LÍLLÉbaby
®
BABY CARRIER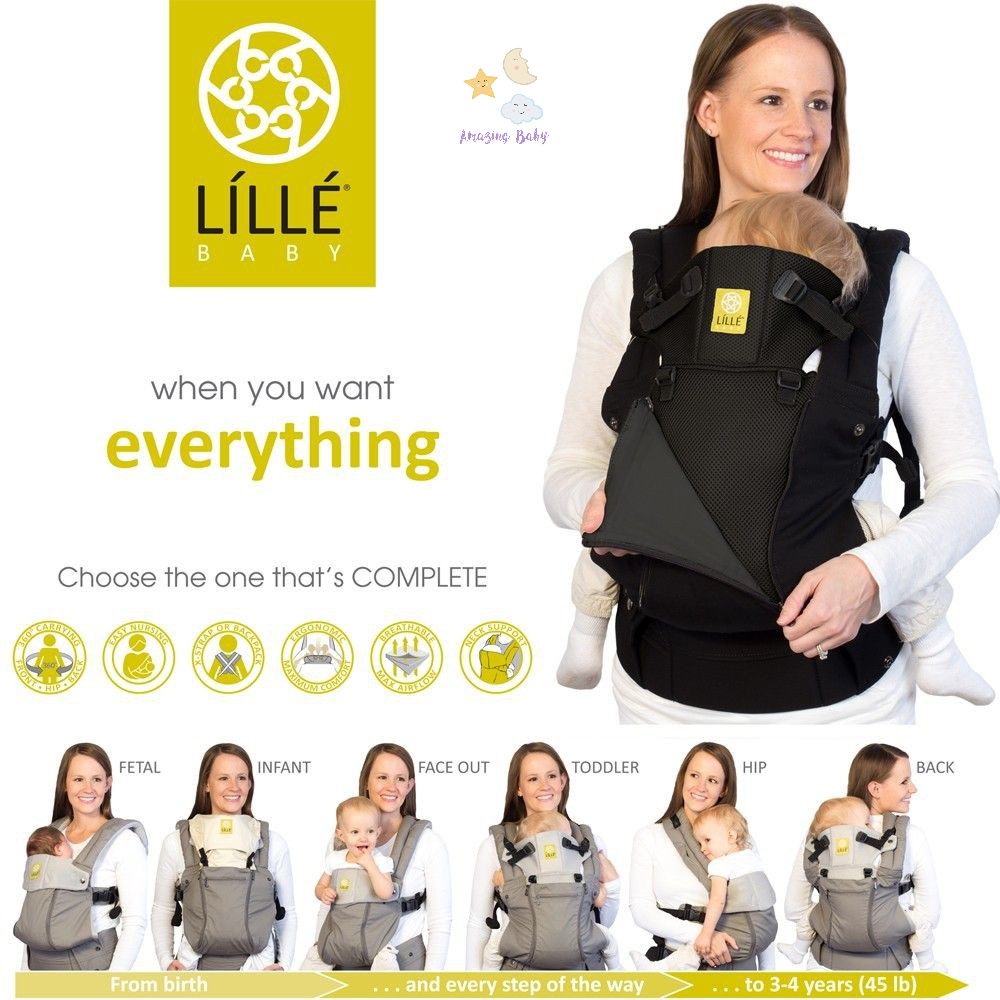 Founded in 2001 in USA, LÍLLÉbaby® claimed to offer the most versatile baby carrier on the market w
ith a product tagline that says 'The ONLY COMPLETE Baby Carrier. This is a bold claim indeed, if I must say so.
With the launch of the COMPLETE™ carrier in 2012, LÍLLÉbaby® returned to its roots, creating a carrier that featured Scandinavian design principals—durable, high performing products with impeccable design. Receiving high volumes of praise from industry officials worldwide,
LÍLLÉbaby® is sold throughout North America, Europe and Asia.
It also seems like Hollywood is also embracing it, as we see celebrities loving it.
View celebrities photos here:
And so the suppliers are indeed very excited to be able to distribute it in Malaysia and to bring this brand closer to our home.
FIRST IMPRESSIONS
It came in a neatly packed brown parcel.
Underneath the parcel is the
LÍLLÉbaby® Complete All Seasons Baby Carrier Box.
LÍLLÉbaby® has several models on their range now (eg:
Complete Organic,
Original,
Airflow, All Seasons,
Embossed, etc).
This one that I am reviewing now is the All Seasons.
These are the front and back views of the box, and the side views too.
On the front of the box, the brand name LÍLLÉbaby® and its logo are clearly displayed on the top left of the box, with the name of the product stated clearly.
It also shows the 6 wearing positions of the baby carrier.
On the back of the box, it gives a brief indication on the usage of the features.
And on one side of the box, it shows the recommended months suitable for the baby's age.
I like that the box is very informative.
On the top of the box, there is a sticker showing you exactly what model of baby carrier is in the content of the box.
And there is a soft plastic carrier lid on top of the box, which makes transporting the box easier.
I opened the lid of the box and this was what I saw. A thin colourful brochure/manual and the baby carrier filled up the whole box.
This brochure introduces all the components of the baby carrier in an easy to understand way, including the waist belt, safety harness, tips and hints, converting between narrow and wide seat, as well as detailed instructions on how to carry your baby in 6 ergonomic carrying positions.
When take out of the box and spread eagle-wide, this is what the
LÍLLÉbaby® Complete ALL SEASONS Baby Carrier
looks like.
This one is Charcoal Silver in colour. There are many other colours available.
I chose this colour because is is neutral-gender, and that it looks great even if daddy were to use it! ;)


This is how it looks like if I were to babywear it now.
Ok, this is not me. I don't look like this. This is
LÍLLÉbaby® beautiful model
:)
As I received the LÍLLÉbaby® Complete ALL SEASONS Baby Carrier
for review
, so let me talk about what are the features and its uniqueness about this baby carrier.
These features below applies for the ENTIRE range of

LÍLLÉbaby® Baby Carrier. Some of the stuff i.e materials may differ but features are the same. (You can see a comparison chart later).
A) It has 6 Ergonomic Carrying Positions.
I haven't tried it yet, because I am currently pregnant, but I must say I am pretty impressed with it as most only has 4 wearing positions.
If I am not mistaken, I think
LÍLLÉbaby® Baby Carrier is the only one in the market that combines all 6 positions into one carrier, hence the name 'COMPLETE 6-in-1 baby carrier'.
The reason why it is possible is because of the patented cupped seat that can be adjustable (from wide to narrow and vice-versa) to keep baby ergonomically seated in all 6 positions, through every development stage. (see below)
But I am still not convinced that the Ergonomic Outward position is suitable for long-hours wearing. But it will be useful for parents to have a choice of having an ergonomic outward position to carry their baby for a short period of time.
So what are the 6 Ergonomic Carrying Positions that the baby carrier is boasting about?
They are:-
1. Front-Fetal,
2. Front-Infant,
3. Front-Outward,
4. Front-Toddler,
5. Hip Carry, and
6. Back Carry.
Image Source: http://www.bluedandelionkids.com/Gear.html
This
LÍLLÉbaby® Complete Carrier
grows with your child through all the baby wearing years from 7 lbs(~3kg) to 45 lbs(~20kg). The patented cupped seat adjusts to keep baby ergonomically seated in all six carry positions through every development stage.
I'm amazed that it includes every carrying position without the need of an infant insert!
As mentioned, LÍLLÉbaby®Baby Carrier has the ability to bridge the babywearing gap months when your baby is too big for the fetal position, yet too little to naturally "wrap" his/her feet around your waist.
I haven't tried this yet, as I usually only start using SSC when my baby is 4 mths old. But this would be really useful for parents who like to babywear their kids since small and the fact that their baby can be carried at any development stage with this only one
LÍLLÉbaby®
baby carrier!
Look at the diagram below to understand more.
For first-time babywearing parents, it can be a little daunting to be fiddling with all 6 carrying positions. As all things new, you need to give it some time to really get the knack out of it. There would be lotsa of trials and errors, but after some time, it should be a breeze as an SSC is really one of the baby carriers that has a more easy learning curve. Give it a try!
But I am glad to let you know that the instruction manual/brochure is easy to understand with lots of pictures to guide you and me. Furthermore,
LÍLLÉbaby® has also uploaded instructional videos in their Facebook Page and also on their Webpage.
B) It has Lumbar Support
There is a piece of cloth on the baby carrier which is supposed to be the lumbar support, which increases comfort, maintains healthy posture and alignment, and prevents lower back strain. When combined with the extra sturdy waist belt it maximizes parents' comfort.
Lumbar Support
I must say that this features is the feature I most look forward to try it out and hopefully enjoy. This is because I encountered lower back pain since pregnant with Shern. So I hope this feature can provide maximum comfort for me when babywearing with this carrier.
And also this is
a removable piece,
which means that you can remove it if it is not wanted. I like this too as it is flexi.
C) Two-Way Strap
It has a two-way, dual adjustable straps. The carrier straps adjust in 2 ways - you can either pull forward or backwards to tighten it.
This dual adjustment buckles is said to simplify breastfeeding and adjusting straps on the go. I am all in support of simplifying breastfeeding-on-the-go, so this is also a feature which I am looking forward to use.
What I understand is that with this, parents can adjust the fit to the body more easily.
Eg: If you are wearing your baby on your back, you can pull forward (instead of backwards which can be more awkward).
It also makes sharing the carrier with another family member (i.e: hubby) easier because each member could adjust the carrier to their comfort, quickly, simply and easily.
Oh ya, this carrier can also be worn like a knapsack or crossed like the picture below.
Image Source: http://www.theportablebaby.com/lillebaby-complete/
D) Dual-Adjustment Points for Sleeping Hood
It features dual adjustment points to
provide tailored support for baby's head while sleeping
. It also
provides sun protection
while exploring with baby, and it also double up as a
privacy hood when you need it for nursing.
This is good as I usually babywear my baby for long hours especially during holidays. The last time I babywore Khye in Singapore, we walked for 10 hours every day! (of course with breaks in between)
With long hours, I am sure to babywear while baby sleeps, and need his milk, and also while I explore!
This piece is also
removable
.
E) Extra Tall, Extendable Torso
This feature
provides neck and back support for baby's head and keeps taller babies secure in the carrier.
The adjustable width gently cradles baby's head. There are elastic straps which provide support while allowing for movement and easy adjustment.
To tell the truth, we don't have tall babies, mainly because both hubby and I aren't tall people. But somehow I've got big babies. Khye was a big baby, so I appreciate it to secure my baby in the carrier.
F) Pockets
There is a large zippered pocket, plus easy-to-reach pocket for storing hood and essentials for convenience.
This is one thing that is
an absolute must - a large zippered pocket.
If not, where else should I keep my mobile phone, keys and some cash and cards? Unless I bring another bag with me while babywearing, if not I will be stuffing all my essentials into the pocket!
G) Wide Padded Shoulder Straps & Waist Belt
This is something I noticed straightaway. It may look a 'lil bulky to some, but as an experienced SSC babywearer, I know how important it is to have wide padded comfortable shoulder straps and waist belt. It
makes babywearing so much more comfortable with its distributed weight and not those digging into your flesh
.
H) Temperature Control Planel (ONLY FOR ALL SEASONS carriers)
And this is only unique for All Seasons model.
What I like about this All Seasons version is the flexibility for changing climates. It combines the best of both worlds.
It has the unique feature of the
Temperature Control Panel
. It has 2 zippers on either side of the midline. This panel can be
zipped up for warmth or down for a much cooler, breathable babywearing session.
Once zipped down, it reveals a 3D breathable moisture-wicking mesh material for the breathable option.
This is
so great for hot and humid Malaysian weather
as whenever we are outdoors, we need to zip down to have a more breathable option, and if I
travel overseas to a cooler climate country, I may need to zip up
to provide more warmth for my baby.
So I was glad that I have the chance to try out this Complete All Seasons version for this flexibility.
There are currently the following range from LÍLLÉbaby® Baby Carriers:
- Complete Organic
- Complete Original
- Complete Airflow
- Complete All Seasons
- Embossed
- Limited Edition (Tokidoki Rebel All Seasons &Carry On)
** Carry-On is for bigger toddlers
(Pls click the
webpage
to view the photos of all the different carrier models)
Please see below Comparison Chart on the different features of the different range
FEATURES OF LÍLLÉbaby® COMPLETE BABY CARRIERS



Use without infant insert

Seat width- narrowest setting

Seat width- widest (at cupped seat)

Torso Length (adjustable)

Waist circumference – widest

Waist belt extension available

Exterior Fabric / Waist Belt Lining Fabric

100% Brushed Organic Cotton

100% Sateen Organic Cotton

Super soft brushed
organic fabric

Sturdy and durable

cotton canvas

Made with cool,
breathable, 3D mesh

Temperature-control panel:
zips down for warmth or
down for cool,
breathable, 3D mesh

Stylish and super soft
microfiber with cozy
faux suede lining
The Embossed model is the latest version currently. It is made with microfibre embossed exteriors and soft faux suede lining. The design is the same as the LÍLLÉbaby® Original with pockets, including the lumbar support and two-way straps constructed in the beautiful fabrics.
Available in 4 colours; blue, coral, citrus, and teal.
There are also a few Limited Edition Designer versions, such as the Tokidoki carriers.
LÍLLÉbaby® has launched a collaboration with Tokidoki, the Japanese pop culture. This collection will feature new styles in the LÍLLÉbaby® All Seasons range and is the first ever Tokidoki carrier. The first collection features the Tokidoki Rebel pattern.
Parents/Wearers prefers different choices of models based on their needs.
As mentioned, All Seasons is the choice of parents who wants the best of both worlds, to either zip up for warmth or down for a much cooler, breathable babywearing session.
Airflow is the choice of sporty or always-on-the-go parents, as it is ventilated and breathable. The breathable 3D moisture-wicking mesh for maximum air circulation, helps parents and babies to stay cool.
Those that goes for Original loves its comfortable 100% canvas fabric, and to those green-conscious parents, they would usually opt for the Organic model.
And to the parents that wants to make a fashion statement, there is also a choice of the Designer prints, or to the plush, expensive-looking Embosses version, or even the limited editions such as Tokidoki design they have currently.
So you can see that there are many choices for parents, depending on their needs and taste.
I feel safe with this LÍLLÉbaby® carrier because it has many good reviews and also won many awards, which put my heart and ease when using.
The ever generous people from
LÍLLÉbaby®
is sponsoring one
LÍLLÉbaby® ORIGINAL Baby Carrier (purple) to ONE
lucky winners! (worth RM499 inclusive of GST!)
Win one for your baby, or for your friend's baby. :)

Here are some pics how the prize looks like :)
Cool, isn't it?
This giveaway is open to my Malaysian readers with a Malaysian mailing address.
Giveaway runs for ~ 1 month and
ends on 30th July 2015 (Thursday) 11.59pm Malaysian time.
So good luck to you all readers!
To read about my other reviews on babycarriers, click on below :-
a) Soft-structured Carriers (SSCs)
-
Pikkolo by Catbird Baby
TO PURCHASE
Please send an email to
LÍLLÉbaby® Malaysia at
info@activaimpetus.com , or you can also text their mobile at 014-6993992
You can also visit their
Facebook page
for more info.
Or you can also purchase from platforms such as Lazada.
p/s - Stay tuned for my updates on
Part 2
* Disclosure: I received an
LÍLLÉbaby® Complete All Seasons Baby Carrier
for review purpose, but no monetary incentive was received. All text and opinions are of my own and represents my honest opinion of the product(s).